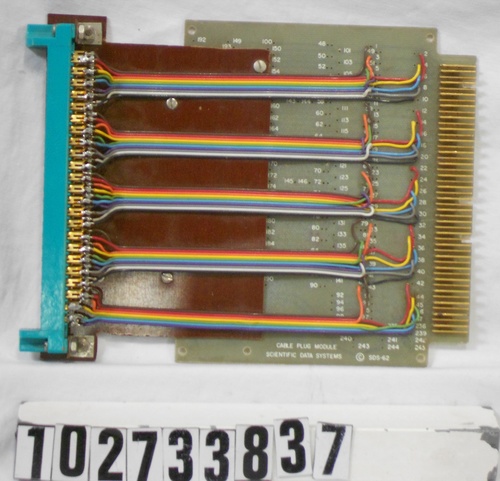 Title
SDS cable plug module
Manufacturer
Scientific Data Systems (SDS)
Dimensions
overall: 6 in x 7/8 in x 5 5/8 in
Description
This module is a PCB intended to be inserted in a card cage.

Opposite the handle there are 47 bifurcated gold-plated contacts arranged in two rows. This board constitutes a bread board. On the component side there is printing which shows locations for several hundred numbered holes. The circuit side has a pattern of traces which connect groups of the holes and the card-edge contacts to holes. Jumpers and components can be added from one trace pattern to another to allow circuits to be constructed.

An additional piece of hand-cut brown phenolic has been attached where the extraction handle would be. On the outboard edge of this there is a 47-pin socket which allows another SDS card to be inserted. Multiconductor ribbon cable connects the contacts of this socket to traces that lead to the card-edge contact.
Category
Component/module
Credit
Gift of National Oceanic and Atmospheric Administration (NOAA)