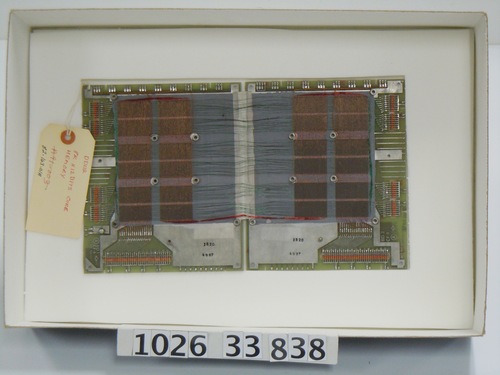 Title
SDS cable plug module
Description
This module is a PCB intended to be inserted in a card cage.

Opposite the handle there are 47 bifurcated gold-plated contacts arranged in two rows. This board constitutes a bread board. On the component side there is printing which shows locations for several hundred numbered holes. The circuit side has a pattern of traces which connect groups of the holes and the card-edge contacts to holes. Jumpers and components can be added from one trace pattern to another to allow circuits to be constructed.

Brown-insulated wires have been soldered to some of the holes and cutoff about 1/4" from the hole. A single jumper has also been added. The insertion handle of the module has been removed.
Manufacturer
Scientific Data Systems (SDS)
Identifying Numbers
| | | |
| --- | --- | --- |
| Other number | 100662B | Stamped in black ink on both sides of the module on the extraction-handle end. |
Dimensions
overall: 6 in x 7/8 in x 5 5/8 in
Category
Component/module
Credit
Gift of National Oceanic and Atmospheric Administration (NOAA)