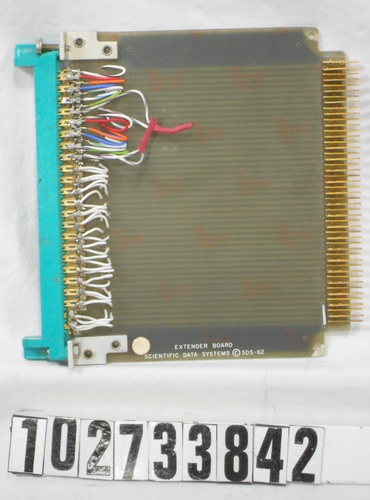 Title
SDS extender board module
Manufacturer
Scientific Data Systems (SDS)
Identifying Numbers
| | | |
| --- | --- | --- |
| Other number | 100253C | Stamped on the circuit side of the card on the extraction handle end. |
Dimensions
overall: 6 in x 7/8 in x 5 5/8 in
Description
This module is nearly identical to object catalogue number 102733841.

This module is a PCB intended to be inserted in a card cage. On the insertion-handle side a 47-contact socket that accepts other SDS module card-edge connectors is mounted in place of the extraction handle.

There are 47 bifurcated gold-plated contacts arranged in two rows on the opposite side. The component side is blank. The circuit side has parallel traces which connect pins on the card-edge connector on one side to holes near the socket on the other side. Short lengths of wire extend from the traces on the circuit side through to the contacts on the socket on the component side.

In the case of this module, 17 of the contacts on the upper end of the socket are wired to the PCB using wire of various insulation colors instead of the single color of the other boards. Additionally, two of the connections are made with lengths of wire that were cut and then soldered back together.
Category
Component/module
Credit
Gift of National Oceanic and Atmospheric Administration (NOAA)