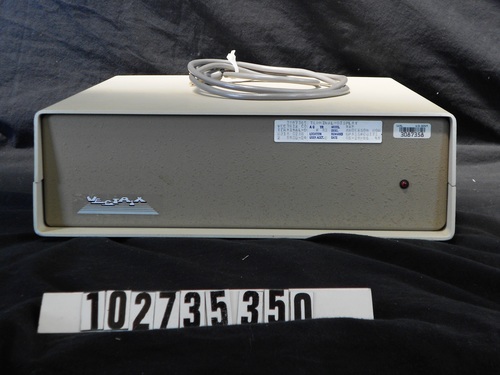 Title
Graphics display controller
Date
5/28/86 on white label on the front
Manufacturer
Vectrix Corp.
Place Manufactured
Greenboro, N.C.
Identifying Numbers
| | | |
| --- | --- | --- |
| Model number | VXM | Label on front panel |
| Other number | 003013087358 | Barcode on front panel labeled LLNL |
| Serial number | 1543 | Black and silver label on back |
Dimensions
overall: 4 1/2 in x 14 in x 15 1/2 in
Description
Object is a metal box with only a pilot light on the front panel. On the rear panel are six BNC connectors labeled COMBINED SYNC, H SYNC, V SYNC, RED, GREEN, and BLUE (so, clearly controlling a color video display); also a female DB-25 connector labeled KEYBOARD and one labeled HOST, and a male DB-25 labeled PRINTER. A white paper label has typewritten information with the model, date, user account etc. There are vectrix made controllers for color displays, with an internal frame buffer that could be controlled by a host system via the RS-232 port.
Category
I/O/other