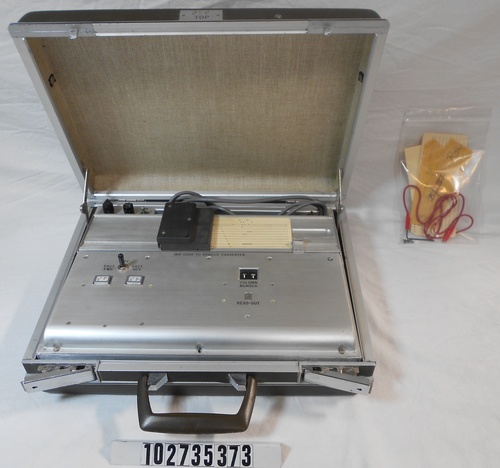 Title
IBM card to Braille reader
Description
This unit consists of a punched card to Braille reader installed in a briefcase. Inside the briefcase, the polished aluminum reader has a mechanism for reading a punched card at the top. This includes a black read head and a small metal clip which pushes the card through the reader. The lower-left part of the reader has a toggle switch labelled "Fast FWD" and "Fast Rev". There are two corresponding Braille-labeled push buttons. The lower-right has a two-digit decimal display with Braille dots on the numbers and labeled "column number." A small pad is labeled "read-out" and has 6 movable Braille dots. In the upper left corner there is an on/off switch, a fuse,and a speed adj. knob.
This is a custom unit built at the Lawrence Livermore Mechanical Laboratory. LLNL deprecated number is 85.679.01and is handwritten on the right side of the briefcase.
Date
1971
Manufacturer
Lawrence Radiation Laboratory (LRL)
Place Manufactured
Livermore Calif.
Dimensions
overall: 15 1/2 in x 18 3/8 in x 4 3/4 in
Category
I/O/punched card device