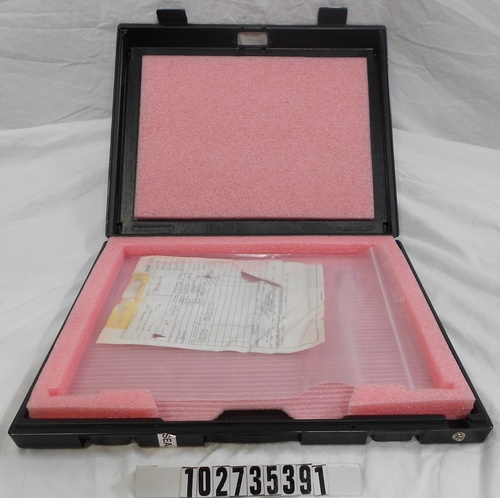 Title
Custom case for circuit board
Manufacturer
Digital Equipment Corporation (DEC)
Dimensions
Conductive Case: 15 1/4 in x 18 1/4 in x 2 3/4 in; Shipping Request Form: 10 7/8 in x 8 1/2 in x 0 in
Description
This record contains a conductive case and a shipping request form.
The conductive container case was used to hold a circuit board in 102735387. It has snap-on tabs to open and close. It has a small plastic window where you can see into the case. It has a handle. It has a "digital" logo on the front, and a label that says "CONDUCTIVE CONTAINER." There is a warning sign for static sensitive devices, and a white sticker that's labeled "Reason for Return." There is a silver sticker over the opening of the case that says "ESD SEAL." The inside of the case is lined with pink foam.

The shipping request form is shipped to the Digital Equipment Corp. in Massachusetts. Paul Touriguy is mentioned in the Remarks section. The description of the shipping items is 8650 Upgrade Kit.
Category
Miscellaneous/carrying case/cover