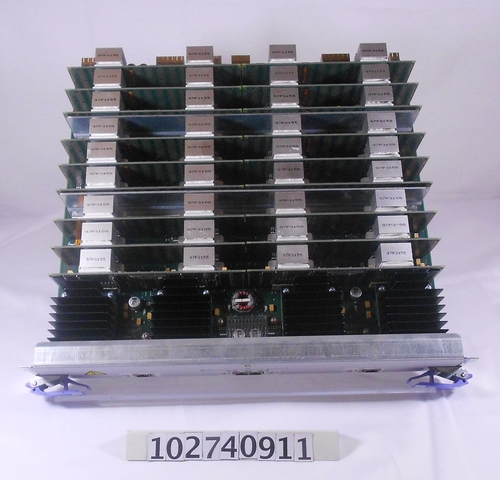 Title
Blue Gene/L node card
Description
Since the mid-1990s, supercomputers have been built using multiple central processing units (CPUs) instead of one very, very fast CPU. This approach is known as massively parallel computing. The IBM Blue Gene/L node card is one of 16 similar node cards used in one rack of the IBM Blue Gene/L supercomputer. This node card came from the Blue Gene/L at the IBM Almaden Research Center in San Jose.
Date
2000
Manufacturer
International Business Machines (IBM)
Place Manufactured
U.S.
Identifying Numbers
| | | |
| --- | --- | --- |
| Other number | 6 | Sticker on front panel of node card. |
| Other number | 97P3155 | On the top of all silver heatsinks. |
Dimensions
overall: 3 3/4 in x 18 1/2 in x 17 1/8 in
Category
Component/module
Curator Notes
Blue Gene/L supercomputer node card, IBM, 2004
This node card is one of several that were used in IBM's Blue Gene/L supercomputer system—an innovative design that emphasized low power consumption and massive parallelism. A single scientist with a calculator would have to work nonstop for 177,000 years to perform the operations that Blue Gene could do in one second. This particular card came from the Blue Gene system at IBM Research's nearby Almaden facility.
Credit
Gift of International Business Machines