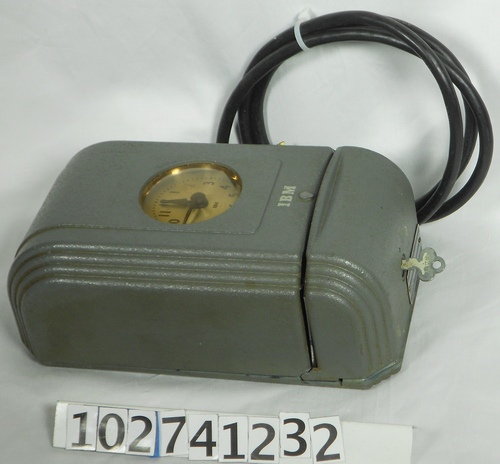 Manufacturer
International Business Machines (IBM)
Place Manufactured
U.S.
Identifying Numbers
Model number
780
Other number
ABY1
On the key.
Serial number
681845 BX
Dimensions
overall: 9 3/4 in x 5 3/8 in x 3 5/8 in
Description
Written on the key is, "Corbin Cabinet Lock Div. New Brittain, Conn. USA." Also written on the key is. "SHIFT." The key fits in the lock which secures the cover to the clock base and mechanism. The lock is in working order.
Category
Miscellaneous/other
Curator Notes
The Model 780 was a semi-automatic electric time recorder introduced in 1940 by the Time Equipment Division of IBM. Three late 19th century inventions – the Bundy Key Recorder, Dey's Dial Recorder, and the Rochester Recorder – and the companies spawned as a result, formed the basis of the Division, which in 1958 was sold to Simplex Time Recorder Company. At the time, IBM was strategically cementing its focus on data processing and electric typewriters. It was the first line of recorders produced by IBM designed for small businesses that could track employee work hours as well as job cost. This manually operated machine required users to position and print the punch cards that recorded this information.
Credit
Gift of Len Shustek