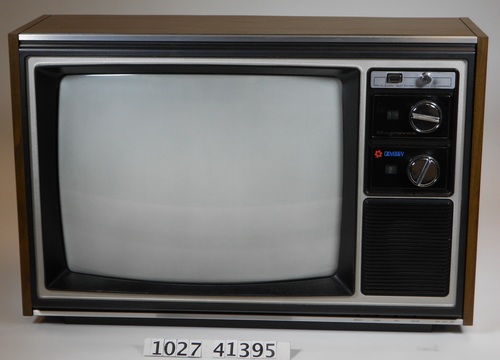 Title
Magnavox Odyssey TV video game system
Date
1976
Manufacturer
Magnavox Company
Place Manufactured
Tennessee, U.S.
Identifying Numbers
Model number
T991-20
Other number
591684-20
On a label on the back of the object.
Other number
63915377
On a label on the back of the object.
Dimensions
overall: 17 in x 25 3/4 in x 18 in
Category
Game
Curator Notes
The Magnavox Odyssey TV video game system came equipped with three games – Tennis, Hockey, and Smash. The games were two-player Pong-like variants that could be played at two skill levels – slow, with small players, or fast with large players. Turning the knobs clockwise on the controllers moved the players up, while a counter-clockwise rotation moved them down – a game feature analogous to Pong's paddle. One advantage of the built-in Odyssey was clearer picture quality as the video signal was direct instead of going through an "RF modulator" to connect to a TV. In contrast to the original Odyssey's overlay "graphics," the system had color video graphics as well as sound. However, the Odyssey TV only had modest sales. Pressing the topmost button on the TV could switch the set from game mode to a standard television that could receive VHF and UHF channels.
Credit
Gift of Albert Valcour