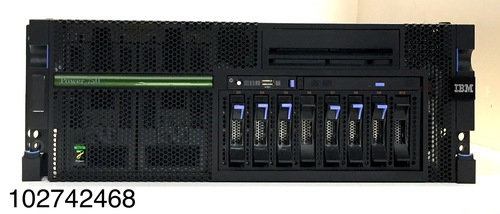 Title
Watson server blade
Date
June 18, 2010
Manufacturer
IBM Corporation
Place Manufactured
Rochester, MN, U.S.
Identifying Numbers
Model number
E8B
Other number
8233
Machine type on a label on the top.
Other number
L35931
EC number on a label on the right side.
Part number
44V4793
Serial number
101A54P
Dimensions
overall: 6 3/4 in x 19 1/8 in x 29 3/4 in
Category
Digital computer/supercomputer
Curator Notes
This IBM Power 750 server blade is one of 90 that comprised the first version of Watson, IBM's groundbreaking artificial intelligence system, which, in 2011, handily dominated two of the all-time best Jeopardy! television program players, Ken Jennings and Brad Rutter. The system analyzed the content of the trivia game show's natural language clues more accurately and quickly than its flesh and blood competitors with an open-domain question-answering (QA) system – Watson's "brain." The QA system had been input by IBM engineers with a wide swath of facts and information amounting to several terabytes of content, resulting in the ultimate Jeopardy! player. The inside of the server blade is signed by the team that worked on the project.
Credit
Gift of IBM