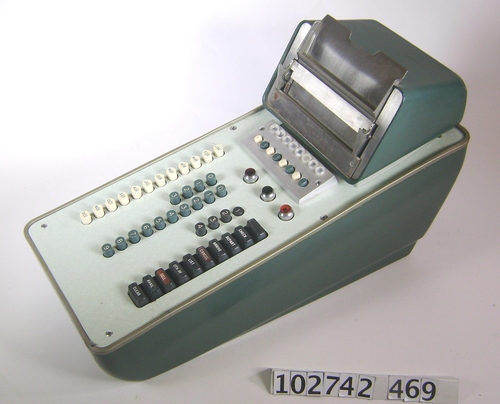 Date
Circa 1950
Manufacturer
Teleregister Corporation
Dimensions
overall: 11 1/2 in x 8 in x 19 in
Description
Wires to interconnecting cables have been cut.
Category
I/O/terminal
Curator Notes
This airline agent set from Teleregister is from the early 1950s, and was used in Pan Am's reservation system. Operators used the keys on the left and in the middle of the device for entering travelers' requested reservation dates along with entering the number of persons in the traveling party. On the right side were command keys to sell or cancel airplane seating requests, and other keys would query the system regarding flight arrival and departure information. These functions allowed operators to check availability on a number of flights many days beforehand. The Pan-Am reservation system pre-dated another Teleregister product - the Magnetronic Reservisor System, which used magnetic drums to store reservation data.

The first system of this type was installed in Boston by American Airlines in 1946.
Credit
Gift of Mark Howe