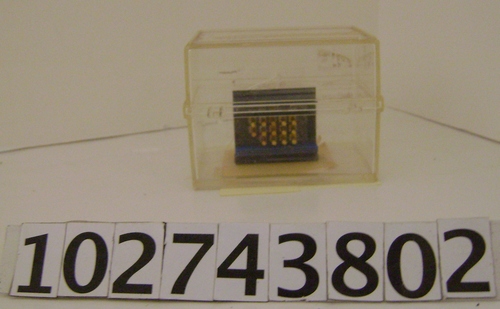 Title
IBM-ACS circuit card
Date
1967
Manufacturer
IBM
Place Manufactured
Menlo Park, Ca, U.S.
Dimensions
overall: 1 1/2 in x 1 3/4 in x 1/2 in; overall: 2 3/4 in x 3 3/4 in x 3 in
Description
Computer circuit card inside a clear plastic box. The card has multiple chips with gold heat sinks.
Bottom of box reads:
"Return to Janku
IBM-ACS 1967. 100 MHZ
ECL Technology, freon cooled
30 gates/chip
2X21 chips/half module
2 modules were sandwiched
900 NETS, 30 AIDS
GCW 1 1/2 mod (MCM)"
"NETS" refers to circuit networks.
"ALDS" refers to automated logic diagram pages.
Chips were custom made by Motorola (MECL) for the Advanced Computing System (ACS) project.
Category
Component/Semiconductor/IC
Credit
Gift of Jan Janku