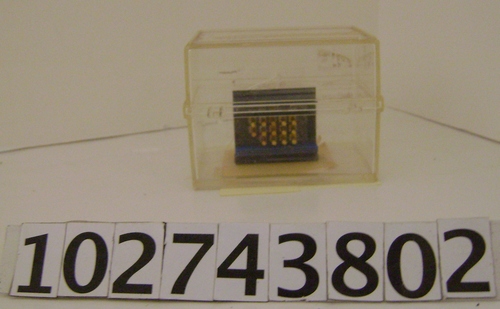 Title
IBM-ACS circuit card
Description
Computer circuit card inside a clear plastic box. The card has multiple chips with gold heat sinks.
Bottom of box reads:
"Return to Janku
IBM-ACS 1967. 100 MHZ
ECL Technology, freon cooled
30 gates/chip
2X21 chips/half module
2 modules were sandwiched
900 NETS, 30 AIDS
GCW 1 1/2 mod (MCM)"
"NETS" refers to circuit networks.
"ALDS" refers to automated logic diagram pages.
Chips were custom made by Motorola (MECL) for the Advanced Computing System (ACS) project.
Date
1967
Manufacturer
IBM
Place Manufactured
Menlo Park, Ca, U.S.
Dimensions
overall: 1 1/2 in x 1 3/4 in x 1/2 in; overall: 2 3/4 in x 3 3/4 in x 3 in
Category
Component/Semiconductor/IC
Credit
Gift of Jan Janku