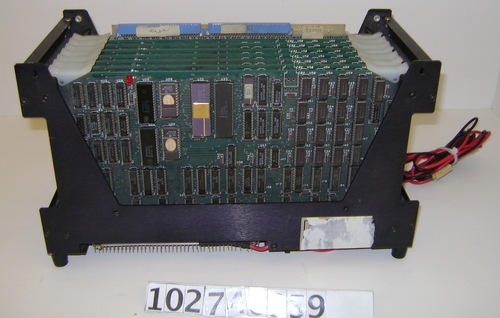 Title
Cosmic Cube prototype
Description
Object consists of frame and 8 printed circuit boards.
Date
1983 ca.
Manufacturer
Caltech
Place Manufactured
U.S.
Identifying Numbers
| | | |
| --- | --- | --- |
| Other number | NEWCP1 | On label on white board |
Dimensions
overall: 8 1/2 in x 14 1/4 in x 6 3/4 in
Category
Digital computer/supercomputer
Curator Notes
The Cosmic Cube was a parallel supercomputer designed by Charles Seitz and Geoffrey Fox beginning in 1981 and is a landmark in computer design. Because it used off-the-shelf microprocessors, computers based on this approach provided excellent performance at modest cost. Parallel computers solve problems by breaking them down into smaller sections and assigning a processor to each section. The full Cosmic Cube used 64 nodes each centered around an Intel 8086 microprocessor and connected up to 6 other processors in a connection system known as a hypercube.
Credit
Gift of California Institute of Technology