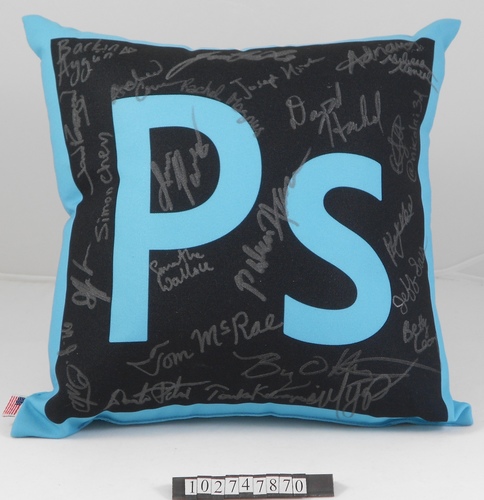 Title
Photoshop signed pillow
Manufacturer
Adobe Systems
Place Manufactured
U.S.
Dimensions
overall: 5 3/4 in x 11 in x 11 1/2 in
Description
The signatures on the pillow are as follows:
Seetha Narayanan
Russell Williams
Jackie Lincoln-Owyang
Chris Cox
Pete Falco
Dave Hackel
Maria Yap
Allen Jeng
Steve Guilhamet
Mike Shaw
Paul Ferguson
Jeff Chien
Barry Young
Lex Van Den Berghe
Kaori Mikawa
Danielle Tullo
Daniel Presedo
Meredith Payne-Stotzner
Vinod Balakrishnan
Zhan Yu
Kellisa Sandoval
Ivy Mak
Jeff Sass
John Hanson
Betty Leong
Nikolai Svakhin
Kyoko Itoda
Adriana Ohlmeyer
Joseph Hsieh
Melissa Monroe
David Mohr
Simon Chen
Barkin Aygun
Rachel Magnus
Tom McRae
John Peterson
Michael J. Orts
Bryan O'Neil Hughes
Category
Ephemera/other
Curator Notes
This pillow was signed by key members of the Photoshop development team. Photoshop was initially created by brothers Thomas and John Knoll. While completing his doctoral work at the University of Michigan in 1987, Thomas created an early version of the software and showed it to John, who worked at Hollywood special-effects company Industrial Light & Magic. Seeing a practical use for it in movies, John used it for image editing of the "pseudopod" scene in James Cameron's The Abyss. Today, it is the most popular software program published by Adobe Systems, and the most popular image editing software in the world.
Credit
Gift of Adobe Systems