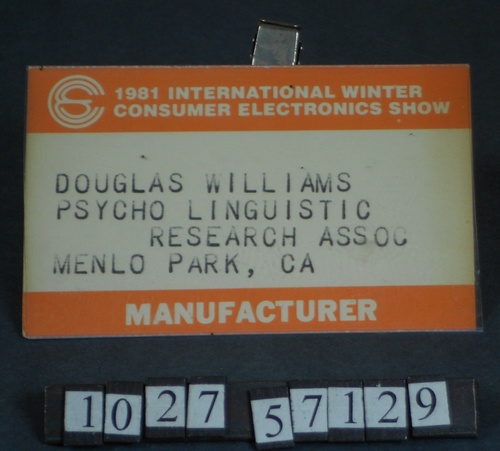 Date
c. 1981
Dimensions
overall: 2 1/2 in x 4 in x 5/8 in
Description
This is a membership badge from the 1981 International Winter Consumer Electronics Show at the Las Vegas Convention Center. The front of the badge has orange stripes top and bottom, with a CES logo and "1981 I bottomnternational Winter Consumer Electronics Show " on the top, and "MANUFACTURER" on the bottom, both as negative images.
The center has "DOUGLAS WILLIAMS PSYHCO LINGUISTICS RESEARCH ASSOC MENLO PARK, CA" typed in black letters.
The location and show hours are printed in black on the back. The is a metal clip on top rear for attachment to clothing.
Category
Ephemera/badge / button
Credit
Estate of Dr. Carol Simpson