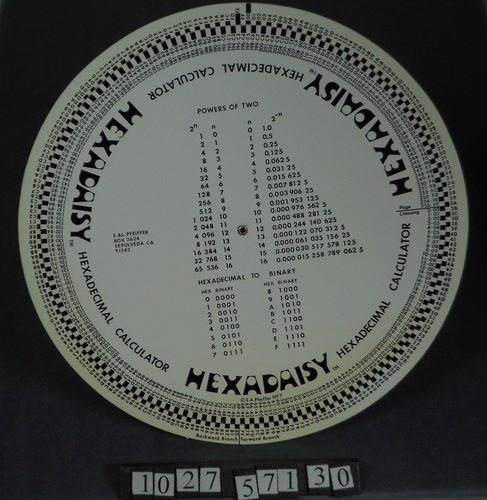 Title
Hexadecimal circular calculator
Date
c.1977
Manufacturer
E. & L. Pfeiffer
Place Manufactured
Sepulveda, CA
Dimensions
overall: 6 3/4 in x 6 3/4 in x 1/8 in
Description
This is a circular slide rule with a larger backing disk and a small rotating disk that can add or subtract 2-digit hexadecimal numbers..
There are three copies of the identification text "HEXADAISY(tm) HEXIDECIMAL CALCULATOR" printed in black inside the edge of the center rotating disk
The larger disk has 256 2-digit hex numbers on the outer rim, and a rotating inner disk with 2 digit hex numbers and their decimal equivalents on its rim. The outer rim has an indicator at the 7F,80 boundary labelled "Backward Branch" and " Forward Branch" on either side of the line. The inner disk has a indicator line labelled "Page Crossing" at the 00,FF boundary. There are 2 tables printed in the center,. One is a hex to binary conversion table, the other is positive and negative powers of 2 in decimal (from 0 to 16).
Category
Pre-computer/slide rule
Credit
Estate of Dr. Carol Simpson