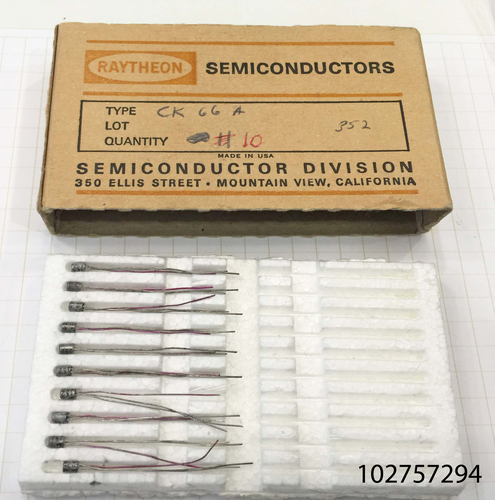 Title
CK 66 AGermanium transistor
Manufacturer
Ratheon Semiconductor Division
Place Manufactured
Mountain View, CA, U.S.
Identifying Numbers
Model number
CK 66 A
Other number
352
Handwritten on the cover.
Dimensions
overall: 5/8 in x 4 in x 2 1/4 in
Description
The object is a set of 10 germanium transistors originally packaged in molded styrofoam inside a cardboard sleeve. These transistors were used in hearing aids.

Per Jack Ward, Transistor Museum
"germanium PNP alloy junction subminiature transistors, in original bulk packaging. Raytheon's initial success with germanium transistors was based on the large scale production of hearing aid transistors. In this application, miniaturization was an important requirement, since smaller components would result in smaller finished device hearing aids. As early as 1956, Raytheon was manufacturing miniature transistors which were sold in large quantities to hearing aid companies. Raytheon continued to reduce the size of specific transistor types, and introduced the "subminiature" case style in 1958. These submini transistor types did not have a long term impact on the electronics industry, including computer circuits, since integrated circuits began to appear by the early 1960s and were the primary technology driving the miniaturization of semiconductor devices. Date code: 352 (1963, week 52). Rare to Common - although many tens of thousands of Raytheon subminiature transistors were produced in the late 1950s/early 1960s, it is rare to find these in original packaging."
Category
Component/Semiconductor/transistor
Collection Title
The Paul Sullivan Collection of Early Semiconductors
Credit
Gift of Pat Sullivan Belotti