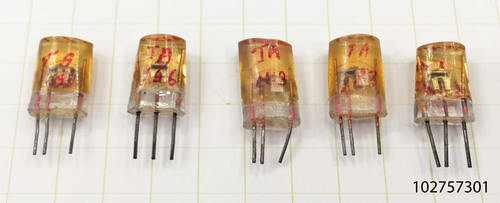 Title
Point contact transistors
Date
ca. 1955
Manufacturer
RCA
Place Manufactured
US
Dimensions
overall: 1/4 in x 2 in x 3 1/2 in
Description
The object consists of five experimental point contact transistors, each embeded in plastic. The transistors are type numbers TA166 AND TA163.

Per Jack Ward, Transistor Museum
"RCA TA163 (3 pieces), and RCA TA166 (2 pieces), developmental germanium PNP point contact transistors. Early 1950s. The first RCA developmental point contact transistors were built by Bob Slade's transistor group established at the Harrison NJ RCA Tube Division, beginning in 1951. The earliest units, such as the devices in this collection, were encased in an amber epoxy, while later units contained a white pigment. Several thousand of this type were built and the main purpose was to supply functioning transistors to RCA circuit engineers for developing applications such as radios and digital circuits. The TA166 was designated a "high frequency RF amplifier" and performed with sufficient stability to be used in the front-end circuitry of the first documented transistor television receiver, constructed at RCA Labs in 1953. As of 2001, a TA166 was displayed at the Smithsonian Museum Information Age Exhibit as an example of important early transistor technology. No date codes are indicated on these transistors, but each is hand-serialized. Very rare (TA163), this type is not referenced in existing RCA historical records, and likely only a very few units were made. Rare (TA166), these are unique developmental devices from the first days of the RCA transistor program, established in the early 1950s. Likely only a few thousand were made."
Category
Component/Semiconductor/transistor
Collection Title
The Paul Sullivan Collection of Early Semiconductors
Credit
Gift of Pat Sullivan Belotti