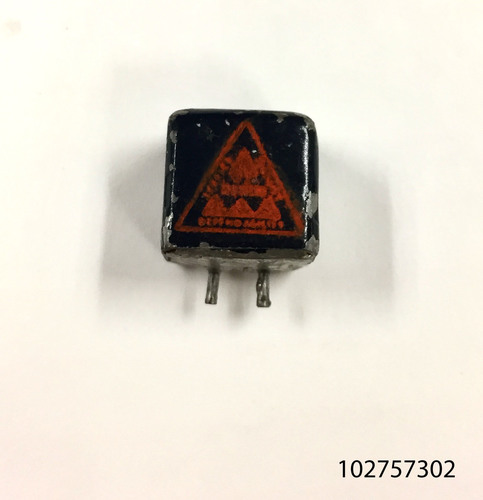 Date
Circa 1950s
Dimensions
overall: 3/4 in x 1/2 in x 1/2 in
Description
The object is a Soviet/East European unidentified device. There is a red logo stamped on the black case and has two leads protruding from the bottom.

Per Jack Ward, Transistor Museum -
"Unknown Metal Cube Case Semiconductor (1 piece). Early to mid-1950s. This mysterious device was contained in the Belotti historic semiconductor donation. The black metal cube case is approximately .75" in each dimension. There is a formal red stamp identification logo on the front of the case, but the text and graphics are not completely legible and do not resemble any known semiconductor manufacturer from this early timeframe. A preliminary assessment identifies this device as a transistor, either point contact or junction, from the early to mid-1950s. Further electrical measurements would be required to confirm the actual semiconductor structure of this device. Extremely rare – this manufacturer and type of this device is not currently known. A preliminary assessment suggests that this device is a prototype or very early production semiconductor from a little known or possibly foreign manufacturer. This is the only known example."
Category
Component/Semiconductor
Collection Title
The Paul Sullivan Collection of Early Semiconductors
Credit
Gift of Pat Sullivan Belotti