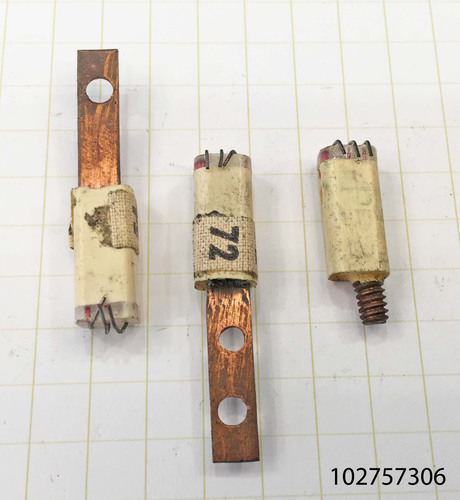 Title
Germanium transisistors
Date
ca. 1955
Manufacturer
Ratheon Semiconductor Division
Place Manufactured
US
Dimensions
overall: 1/4 in x 2 in x 3 1/2 in
Description
The object consists of three experimental high power germanium transistors. Two have flat tab heat sinks. One has a threaded post.

Per Jack Ward, Transistor Museum -
"Raytheon Power Transistor Prototypes (3 pieces), developmental germanium PNP alloy junction power transistors. Mid-1950s. The first commercial transistors, beginning with the Raytheon CK718/721/722 series introduced in late 1952 were suitable only for low power applications. Substantial research was undertaken by many transistor companies at that time to develop higher power devices, which started to appear commercially in the mid to late 1950s. The three units in this lot are examples of developmental power transistors manufactured by Raytheon using the existing CK718 style epoxy resin case construction, but with added copper strips or bolts to provide better heat dissipation and resultant higher power capability. Raytheon developmental transistors typically used white resin (as below) cases. The leftmost case style was commercialized by Raytheon in 1955 as the CK750-1 series of power transistors, and used a striking iridescent blue colored resin. Rare - 1950s developmental power transistors from any company are uncommon, and especially from Raytheon which never became a major manufacturer of power devices. Likely only a very few of these Raytheon power prototypes were developed. "
Category
Component/Semiconductor/transistor
Collection Title
The Paul Sullivan Collection of Early Semiconductors
Credit
Gift of Pat Sullivan Belotti