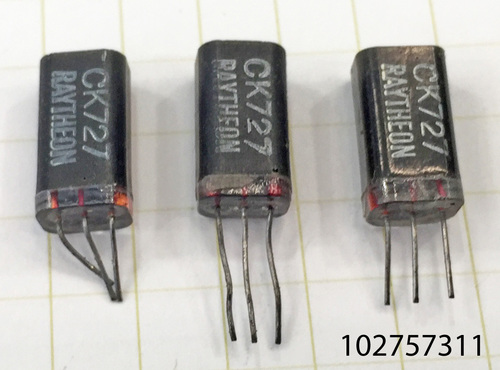 Title
CK727 Germanium transistors
Date
Date code: 402 (1954 week 2)
Manufacturer
Ratheon Semiconductor Division
Place Manufactured
US
Dimensions
overall: 1/4 in x 2 in x 3 3/4 in
Description
The object consists of three pieces that were high performance transistors.

Per Jack Ward, Transistor Museum -
"Raytheon CK727 (3 pieces), germanium PNP alloy junction transistors. Low noise version of the CK721. Raytheon continued to improve the manufacturing processes for these early 1950s germanium transistors, and this resulted in low noise performance characteristics for some types, such as the CK727, which was introduced in 1954. Date code: 402 (1954, week 2). Rare - These units represent a very early production run of the CK727, from the second week of 1954."
Category
Component/Semiconductor/transistor
Collection Title
The Paul Sullivan Collection of Early Semiconductors
Credit
Gift of Pat Sullivan Belotti