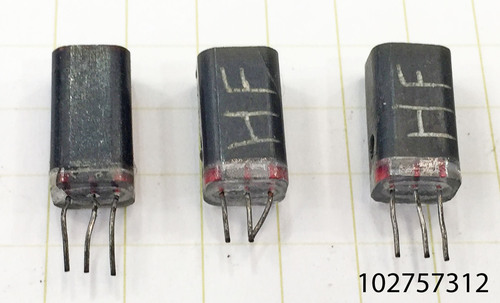 Title
CK 718 Germanium transistors
Date
CA. 1955
Manufacturer
Raytheon Manufacturing Company
Place Manufactured
US
Dimensions
overall: 1/4 in x 2 in x 3 3/4 in
Description
The object consists of three pieces. Two of the pieces are handmarked "HF" meaning high frequency. Two of the pieces are marked "2" and "3." The only markings on the third piece are three red lines on the top.

Per Jack Ward, Transistor Museum -
"Raytheon CK718, Hand Labeled as "HF", (3 pieces) germanium PNP alloy junction transistors. The early production runs from the CK718 production lines resulted in batches of transistors with a very wide range of performance characteristics. As manufacturing techniques were better understood and improved, it became possible to manufacture transistors with specific characteristics. Two of these units appear to have been identified as "HF" and individually identified. "HF" might be a reference to High Frequency, which was a performance characteristic in great demand for these early devices. Note that the leftmost unit is unmarked – many of these transistors from 1952-1955 failed to meet even the minimal specs for the CK722 and so were unlabeled. Rare (HF test units), Common (Unmarked black epoxy case units)."
Category
Component/Semiconductor/transistor
Collection Title
The Paul Sullivan Collection of Early Semiconductors
Credit
Gift of Pat Sullivan Belotti