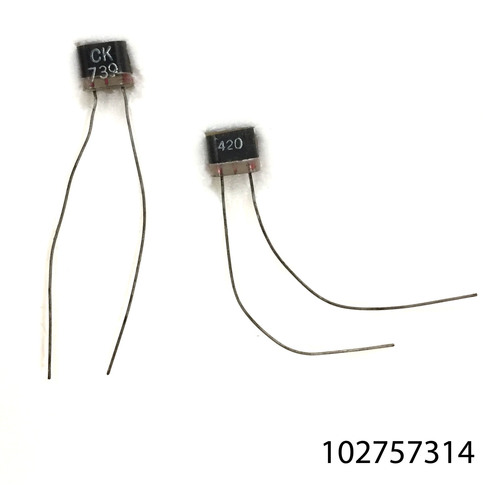 Title
CK739 Germanium diodes
Date
Date code: 420 (1954 week 20)
Manufacturer
Ratheon Semiconductor Division
Place Manufactured
US
Dimensions
overall: 1/4 in x 2 in x 3 3/4 in
Description
The object consists of two pieces.

Per Jack Ward, Transistor Museum -
"Raytheon CK739 (2 pieces), germanium gold bonded diodes. Mid-1950s. Raytheon was a major manufacturer of germanium diodes, starting in the early 1950s. Mastering this technology allowed Raytheon to quickly move into mass production of germanium junction transistors, as the manufacturing processes were similar. Many of these 1950s Raytheon devices used the proprietary "CK" numbering system. The devices in this lot were sold as computer switching diodes, and use the unique black epoxy case characteristic of Raytheon early 1950s semiconductors. By 1955, Raytheon relabeled this diode type with the industry standard "1N305" equivalent id and a more robust metal case style. Date code: 420 (1954, week 20). Rare to Common - early black epoxy case style and proprietary "CK" numbering approach was used for Raytheon diodes for a short time only, with low volume production."
Category
Component/diode
Collection Title
The Paul Sullivan Collection of Early Semiconductors
Credit
Gift of Pat Sullivan Belotti