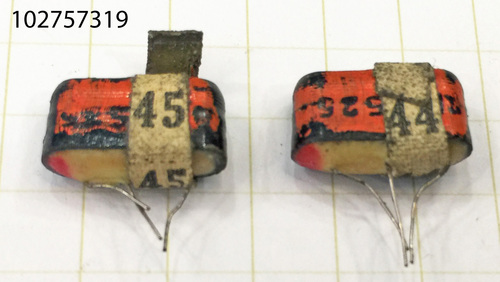 Date
ca. 1955
Manufacturer
Germanium Products Corporation
Place Manufactured
US
Identifying Numbers
| | | |
| --- | --- | --- |
| Other number | 44 | On one of the pieces. |
| Other number | 45 | On one of the pieces. |
Dimensions
overall: 1/4 in x 2 in x 3 3/4 in
Description
The object consists of two pieces. These are hearing aid transistor prototypes used in the first transistorized hearing aid, the Sonotone 1010.

Per Jack Ward, Transistor Museum -
"Germanium Products Corporation RD2525 (2 pieces), germanium NPN grown junction transistors. Early to mid-1950s. The first commercial product using transistor technology was the Sonotone 1010 hearing aid, introduced in late 1952. This product used a hybrid circuit, with two traditional subminiature vacuum tubes and a single germanium transistor. Because of the low current requirements of transistor circuits, this hybrid approach resulted in enhanced battery life for the hearing aid, and also maintained the good sound quality provided by the tubes. These first Sonotone transistorized hearing aids employed transistors manufactured by the little known Germanium Products Corporation (GPC), which was a subsidiary of RDR, or Radio Development & Research Corp, a New Jersey company which had been one of the original transistor licensees from Western Electric. The GPC RD2517 transistor, used in the Sonotone 1010 hearing aid, had been advertised as early as June 1952, with the higher performing RD2520 and RD2525 released in 1953. GPC & RDR were not successful transistor companies and exited the market in the mid-1950s. Raytheon became the dominant supplier of germanium hearing aid transistors and sold thousands of devices, such as the CK718, to hearing aid manufacturers throughout the 1950s. Very rare – these GPC transistors were not produced in large quantities, and most of these devices were installed in hearing aids. The GPC RD2525 transistor, documented in this collection, was the highest performing early GPC type and remaining units are very scarce."
Category
Component/Semiconductor/transistor
Collection Title
The Paul Sullivan Collection of Early Semiconductors
Credit
Gift of Pat Sullivan Belotti