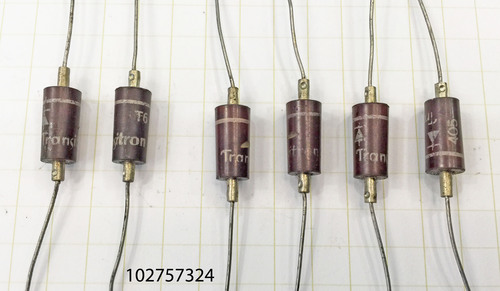 Title
T6 Germanium diodes
Date
Circa 1955
Manufacturer
Transitron Electronic Corporation
Place Manufactured
US
Identifying Numbers
| | | |
| --- | --- | --- |
| Other number | 352 | On two of the pieces. |
| Other number | T3 405 | On three of the pieces. |
| Other number | T6 357 | On one of the pieces. |
Dimensions
overall: 1/4 in x 2 in x 3 3/4 in
Description
The object consists of six pieces.

Per Jack Ward, Transistor Museum -
"Transitron T6 Diodes (6 pieces), germanium gold bonded diodes. Mid-1950s. Founded in 1952 by David and Leo Bakalar in an old mill in Wakefield Massachusetts, Transitron Electronic Corporation became one of the most successful semiconductor manufacturing companies in the world within a few short years. By the mid to late 1950s, Transitron was in the top two or three U.S. producers of diodes, rectifiers and transistors, challenging such long established electronic companies as General Electric, RCA and Raytheon. David Bakalar was the president of Transitron from 1952 to 1984 and his substantial technical achievements with the development of such breakthrough semiconductor devices as gold bonded germanium diodes and silicon rectifiers were the primary basis for Transitron's success. The units in this lot are gold bonded diodes, a type of semiconductor structure patented by Bakalar which resulted in high reliability and high performance devices – the high switching speeds suited these diodes for 1950s computer use. The "T6" is a proprietary number which was cross-referenced to the more standard 1N144 type. The brown phenolic case material used for these diodes is typical for early commercial diodes, and was replaced in the mid-1950s by more reliable plastic hermetically sealed case types. Rare to Common – likely tens of thousands of these early types of Transitron diodes were manufactured, but not many of the phenolic cased units remain."
Category
Component/diode
Collection Title
The Paul Sullivan Collection of Early Semiconductors
Credit
Gift of Pat Sullivan Belotti