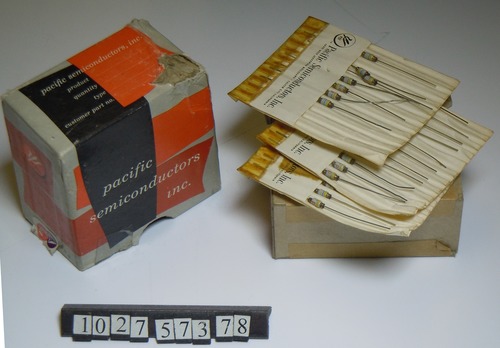 Manufacturer
Pacific Semiconductors, Inc.
Place Manufactured
Lawndale, CA, U.S.
Identifying Numbers
Model number
1N649AF
Other number
CARD2998
On the bottom of the box.
Other number
LOT15045
On the bottom of the box.
Dimensions
overall: 3 3/8 in x 3 in x 1 1/4 in
Description
The object consists of a box with three corrugated cardboard inserts with diodes placed in each of the eleven corrugations. The box has a quantity of 100 printed on it, although it appears that there only 29 diodes. Although the box has the type as 1N644AF, the color codes imply that they are type 1N464. There is a partial label with both Pacific Semiconductor and TRW logos on the box.
Category
Miscellaneous/packaging
Credit
Gift of Laura Peterhans