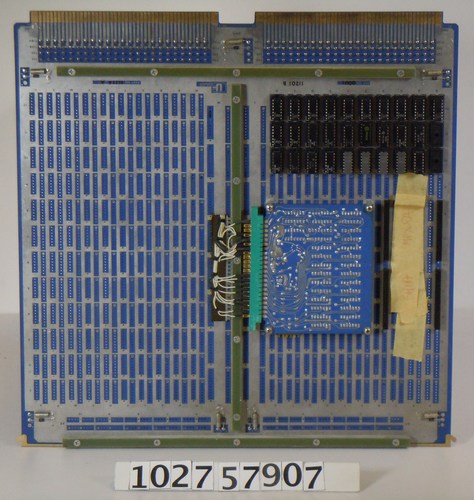 Title
Wirewrapped PC board
Date
c. 1972
Manufacturer
Unicomp
Identifying Numbers
| | | |
| --- | --- | --- |
| Other number | 11116 A | Printed on component side near connector |
| Other number | 11201 B | Printed on component side near connector |
| Serial number | 0001 | Printed on component side near connector |
Dimensions
overall: 15 in x 15 in x 1 in
Description
This is a wire wrap board loaded with 16pin DIP sockets. Most of the sockets are loaded with 7400 series TTL, but some are not .
The board has two edge connectors at one end with 50 pins in etch on both sides of the board.

There are PC board material stiffeners between the two connectors, along the board edge that has the connectors, and along the opposite edge of the board.
There is a notation on the stiffener opposite the edge connector that says "A/D Converter", and extractor handles on both corners of the edge connector edge.

The board accommodates two arrays of 10 by 12 16pin sockets and 8 24 pin sockets. there are also spaces for 10 16pin DIP sockets along the edge opposite the connectors.
This board has a 4.5" by 4" daughter board mounted on the component side, with a slot milled into the board allowing it to be wired to the wire wrap side. There is another slot milled into the board where an Analog Devices ADC component has been placed and soldered into the daughter board.

There are 2 rows of 2v 20 pin headers mounted next to the daughter card, with masking tape on the board between them. There is a notation on the tape that says "SH1A" in one row, and "MPX8A" in the other.
Category
Component/circuit board
Credit
Gift of Jean Astrin Ichnowski