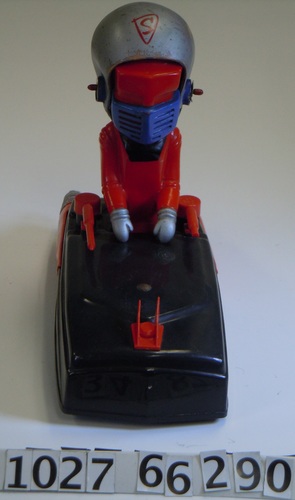 Date
c. 1956
Manufacturer
J Zimmerman Co.
Place Manufactured
St. Louis, MO
Dimensions
overall: 9 1/4 in x 5 in x 12 in
Description
The Z-Man robot embeds mid-20th century visions of robots in its streamlined styling and "space-age" design and is one of the earliest programmable robots. Z-Man could "run in continuous circles, do figure eights, and fire plastic missiles." The toy's course could be programmed by using a dial arrangement with electrical contacts around the rim inside the robot's plastic head. "With practice," a contemporary news article said, "a 10-year-old (or even his father) can direct the robot through a maze of obstacles on any smooth surface. " Z-Man's design was patented (2,775,848) by its inventor Anson Isaacson, cost $11.95, and appeared in various sales outlets, including the 1956 Sears catalog.

There are two lighted exhaust nozzles with spring ornamentation on the rear, two rocket launchers on either side of the driver, and a rotating mechanism for firing the rockets. The rockets themselves are missing. The driver's helmet can be flipped forward to reveal 20 programming switches. Behind the driver is an on/off switch. The front wheels are individual powered for both steering and motivation. When the rear wheels spin, it causes a rotating distributing to sequence the programming switches, and rotate the rocket firing mechanism.
Category
Game
Credit
Gift of David D. Redell