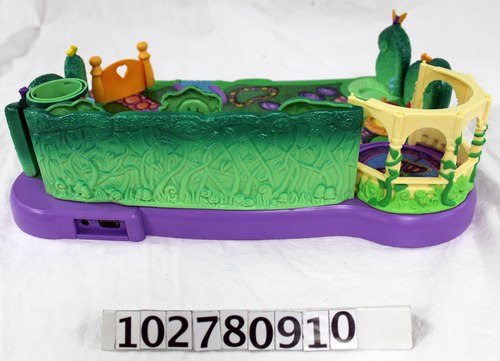 Title
Ellie's Enchanted Garden
Description
Molded plastic base containing electronic components with game objects (for example, a gate, bridge, and wall) permanently attached to the base. Additional components were packaged and have been cataloged separately.
Game information and instructions are printed on the packing box: "A Smart Toy Play set. As you play, your every move magically comes to life on your computer."
Setup information is printed on the packing box:
1. Attach play set to your computer.
2. Pop in the CD.
3. Play!
Minimum specifications are printed on the packing box:
- Available serial communications (COM) port
- PS/2 keyboard port
- 166 MHz Pentium or faster processor
- 32 MB RAM
- Microsoft Windows 95 (also works with Windows 98)
- 40 MB available on hard drive
- 1 MB video card
- Windows compatible sound card
- Quad-speed (4X) CD/ROM drive
Note: a 9-pin serial port connector is included. Some computers use a 25 pin DB25 connector for the serial port. See your computer for an adapter.

Additional usage information is printed on the box; for example, "What is a Zowie Smart Toy?", "Play hide and seek," and "Dance with your friends."
Date
1999
Manufacturer
Zowie Intertainment
Place Manufactured
China; Hong Kong
Identifying Numbers
| | | |
| --- | --- | --- |
| Model number | 1000 | Printed on a label attached to the bottom of the object |
| Serial number | CA30290465 | Printed on a label attached to the bottom of the object |
Dimensions
overall: 5 in x 17 in x 12 in
Category
Game
Credit
Gift of Daniel Cummings