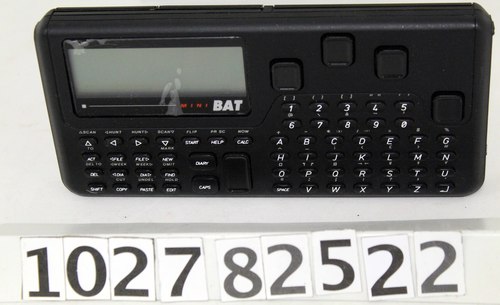 Date
ca. 1990
Manufacturer
Microwriter Ltd.
Identifying Numbers
| | | |
| --- | --- | --- |
| FCC ID number | H7D AGENDA | Printed on the white tag on the back of the unit |
| Serial number | 1019 | Printed on the white tag on the back of the unit |
Dimensions
overall: 3 1/4 in x 7 in x 3/4 in
Description
The object is a handheld electronic device. It is rectangular and oriented horizontally. There is a rectangular glass screen in the upper left corner of the device. "MINI BAT" is printed in the bottom right corner of the glass screen. Below the screen are several command buttons of various sizes. To the right of the command buttons are alphabet and numeric keys. There are four large buttons above the keyboard. On the back of the unit there are three removable plates that cover the batteries. There are two large stickers on the back of the unit. A large white sticker has numbers and reads, "CERTIFIED TO COMPLY WITH CLASS B LIMITS, PART 15 OF THE FCC RULES, SEE INSTRUCTIONS IF INTERFERENCE TO RADIO RECEPTION IS SUSPECTED." There is a smaller black and white sticker below that says, "BRITISH DESIGN AWARD 1990."
Category
Digital computer/personal computer/handheld
Credit
Gift of Andrew Eisner