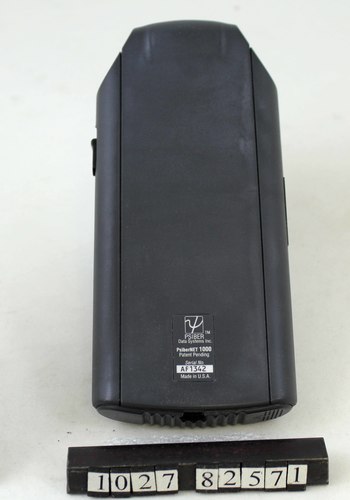 Title
psiberNET connectionless LAN Monitor
Manufacturer
Psiber Data Systems, Inc.
Place Manufactured
La Mesa, CA
Identifying Numbers
| | |
| --- | --- |
| Model number | 1000 |
| Serial number | AF1342 |
Description
Object is a hand-held unit with a small LCD screen and several small buttons. "TIM O'NEILL" has been written on the face in black marker. At the top a clamp opens via a slide switch to enclose a cable. Two 3-1/2 diskettes and an instructional brochure were included (sent to media archive).. According to the brochure the device can read the electromagnetic signal emitted from an Ethernet cable to show the actual bandwidth usage and other information.

The original box was photographed and discarded.
Credit
Gift of Tim O'Neill