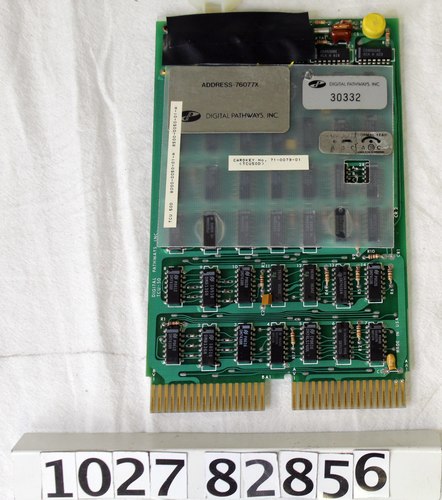 Title
Digital pathways card
Date
circa 1990s
Manufacturer
Digital Pathways Inc.
Place Manufactured
U.S.A.
Identifying Numbers
Model number
TCU-50
Other number
TCU 50D 8000-0050-01-A 8500-0050-01A
White label on cover over component side
Serial number
30332
Dimensions
overall: 5 1/8 in x 1/2 in x 8 3/8 in
Description
Object is a PCB a DEC-style extraction handle and assorted ICs soldered to the board. There are also three round batteries soldered in place. The batteries are described by the donor as a "Digital Pathways Card ( for with Logica Context in PDP-11) (this card was operational)."
Credit
Gift of Charles J. Neuhauser