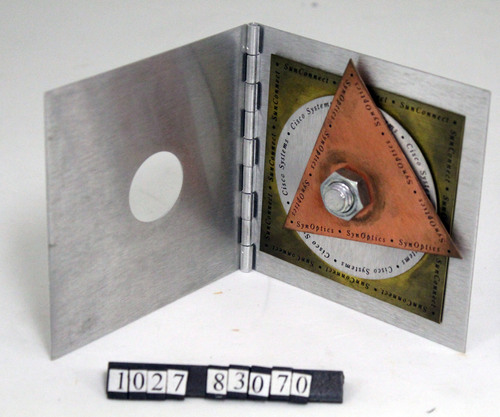 Title
The future is built in invitation
Date
1991
Place Manufactured
Redwood City, Calif.
Dimensions
overall: 4 1/2 in x 4 1/2 in x 1 in
Description
A metal card that goes with an invitation "to a news conference announcing a business alliance that will transform networking in the '90s." The Invitation is asilver metal folding card with a hole in the cetner of the front page for a bolt to stick through. There is a hinge along one side to open the invitation inside there are three layered shapes. The bottom shape is a brass square with "SunConnect" printed in a repeating boarder along the edge. The second metal shape, on top of the square, is a silver circle with "Cisco Systems" boardering the outter edge. The final shape is a brass triangle that says, "SynOptics" along the the edge. There is a bolt through all three shapes, which allows them to spin.
Category
Ephemera/other
Credit
Gift of Peggy Burke