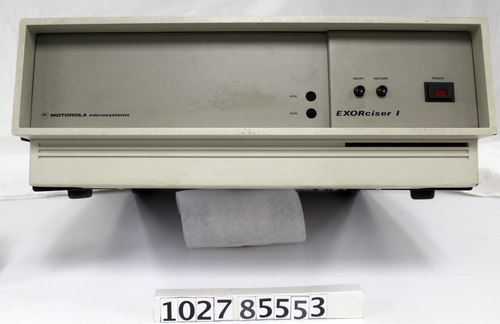 Title
Motorola EXORciser I
Manufacturer
Motorola
Identifying Numbers
Model number
M68SDTI-1
Other number
BA00675
Handwritten in marker on chassis inside
Serial number
1350 REV K
Dimensions
overall: 7 1/2 in x 19 1/4 in x 24 in
Description
Object is the CPU unit of a Motorola EXORciser system. Refer to this URL http://exorciser.net/excorindex_en.htm (retrieved 1/17/2019); "The M6800 EXORciser is a system development tool used in the design and development of M6800 Microcomputer Systems."
Object is a metal box containing circuit cards. On the front panel are buttons labeled "RETART" and "ABORT", an illuminated power-on button, and two indicator lights labeled "AUX" and "RUN.
On the back panel is a rotary selector with numbers from 110 to 9600 (baud rates?). A six-pin female connector is labeled "TTY" and a DB-25 connector is labeled "RS-232". Two wide ribbon cables emerge from under the cover. One terminates in a Centronics connector labeled "Printer". The other terminates in a 50-pin connector that matches the disk drive unit from the same lot.
Inside are 6 circuit cards plugged into a mother board.
Category
I/O/other
Credit
Gift of the California Department of Transportation