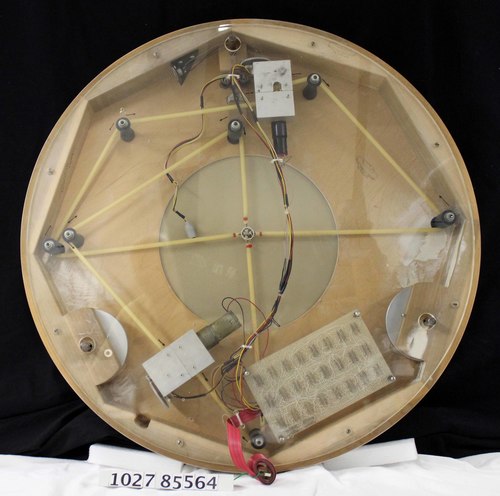 Description
The object is a round wooden frame painted white. The upper face has a white plastic disk, a white pushbutton, and three red lights. Underneath is a complicated mechanism with surgical tubing, two knurled wheels flush with the outer edge, six capstains, and two stepping motors. There is a circuit board with a ribbon cable leading out of the device.
Date
Circa 1975 - 1977
Manufacturer
Solo Zone Publishing
Dimensions
overall: 4 1/2 in x 29 1/2 in x 29 1/2 in
Category
I/O/other
Credit
Charles C. Wehrenberg -- Founder of Solo Zone Publishing for basic "WillBall" concepts, competitive-relaxation game logic, system integration, design, and financing. Brian C. Burke, hired to program the "WillBall" games for Apple II Basic to specifications. Peter Gutkin, hired to construct the "WillBall" table exterior console to specifications. Paul J. Wehrenberg PhD, hired to construct the interior logic circuit controller for the "WillBall" Table to specifications.