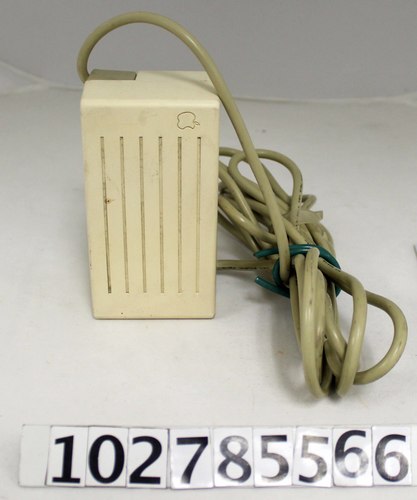 Description
The object is an Apple power supply IIC.
Date
Circa 1984
Manufacturer
Apple
Place Manufactured
Taiwan
Identifying Numbers
Model number
A2M4017
Other number
21 84
Stamped on the bottom edge.
Other number
LR51408
Molded into the bottom.
Dimensions
overall: 2 1/2 in x 11 in x 6 in
Category
Component/power supply / battery
Credit
Charles C. Wehrenberg -- Founder of Solo Zone Publishing for basic "WillBall" concepts, competitive-relaxation game logic, system integration, design, and financing. Brian C. Burke, hired to program the "WillBall" games for Apple II Basic to specifications. Peter Gutkin, hired to construct the "WillBall" table exterior console to specifications. Paul J. Wehrenberg PhD, hired to construct the interior logic circuit controller for the "WillBall" Table to specifications.