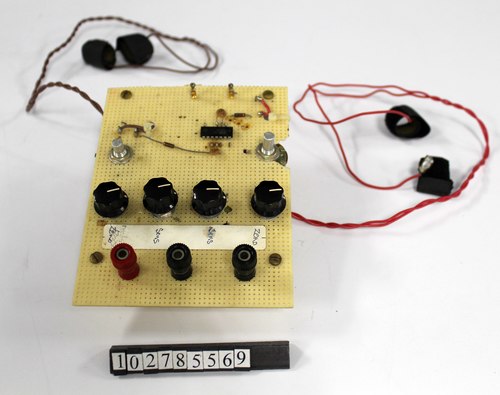 Description
The object is a hand-made circuit board. The object has four potentiometer knobs labeled zero, sens, sens, and zero. There are two additional potentiometers have no knobs and are not labeled. Two It has two black banana plug sockets and one red banana plug socket. There is one integrated circuit LH3900N. There are two pairs of twisted wires lead away from the circuit board, one brown and one red. Each wire ends in a loop of Velcro about the size of a finger.
Date
1974
Dimensions
overall: 2 in x 6 in x 4 1/2 in
Category
Component/circuit board
Credit
Charles C. Wehrenberg -- Founder of Solo Zone Publishing for basic "WillBall" concepts, competitive-relaxation game logic, system integration, design, and financing. Brian C. Burke, hired to program the "WillBall" games for Apple II Basic to specifications. Peter Gutkin, hired to construct the "WillBall" table exterior console to specifications. Paul J. Wehrenberg PhD, hired to construct the interior logic circuit controller for the "WillBall" Table to specifications.