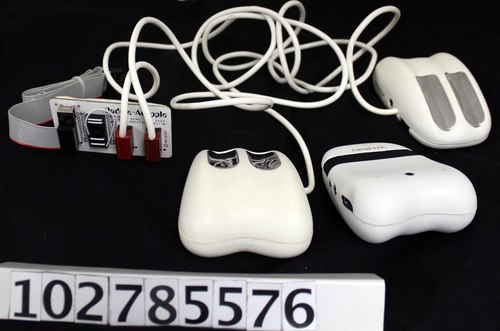 Title
Biofeedback sensors
Description
The object consists of three input paddles for the GSR2 Biofeedback Relaxation System. Two of the paddles have fixed cables with terminate at a circuit board called the paddle-adapple. A third paddle has a connector, but no cable.
Date
Circa 1978
Manufacturer
Thought Technology Ltd.
Place Manufactured
U.S.
Dimensions
overall: 1 3/4 in x 10 in x 10 in; overall: 1 3/4 in x 3 in x 4 in
Category
I/O/other
Credit
Charles C. Wehrenberg -- Founder of Solo Zone Publishing for basic "WillBall" concepts, competitive-relaxation game logic, system integration, design, and financing. Brian C. Burke, hired to program the "WillBall" games for Apple II Basic to specifications. Peter Gutkin, hired to construct the "WillBall" table exterior console to specifications. Paul J. Wehrenberg PhD, hired to construct the interior logic circuit controller for the "WillBall" Table to specifications.