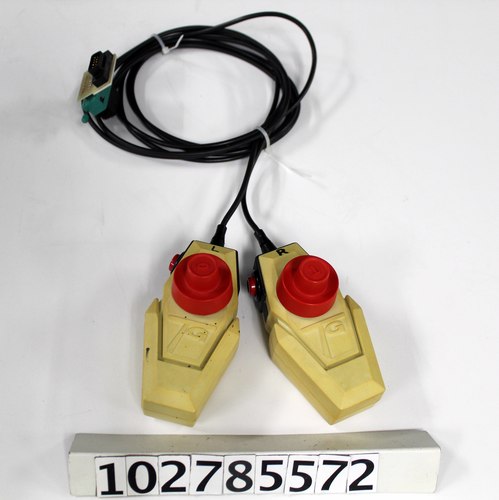 Description
The object is a pair of game paddles attached to a cable. The cable ends in a 16-pin connector which in turn is connected by a socket to a DB9 connector.
Dimensions
overall: 2 5/8 in x 7 in x 11 in
Category
I/O/pointing/joystick
Credit
Charles C. Wehrenberg -- Founder of Solo Zone Publishing for basic "WillBall" concepts, competitive-relaxation game logic, system integration, design, and financing. Brian C. Burke, hired to program the "WillBall" games for Apple II Basic to specifications. Peter Gutkin, hired to construct the "WillBall" table exterior console to specifications. Paul J. Wehrenberg PhD, hired to construct the interior logic circuit controller for the "WillBall" Table to specifications.