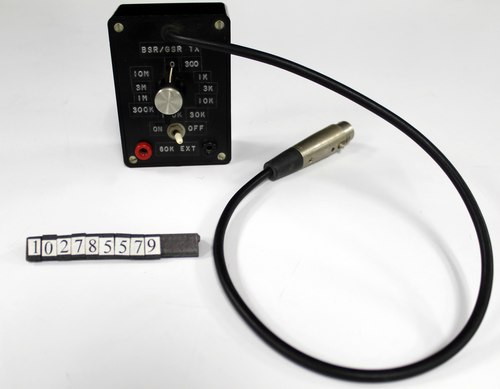 Title
Variable resistance box
Description
The object is a black plastic box. On the top edge emerges a cable terminated in a 3-pin DIN connector. The bottom edge are two banana jacks, one red and one black. They are labeled "60K EXT." Above the jacks is a toggle switch labeled, "ON" and OFF." In the center is a twelve position rotary switch. Its stops are labeled with ascending resistance values from 300 ohms - 10M ohms.
Dimensions
overall: 2 3/4 in x 6 in x 7 in
Category
Component/other
Credit
Charles C. Wehrenberg -- Founder of Solo Zone Publishing for basic "WillBall" concepts, competitive-relaxation game logic, system integration, design, and financing. Brian C. Burke, hired to program the "WillBall" games for Apple II Basic to specifications. Peter Gutkin, hired to construct the "WillBall" table exterior console to specifications. Paul J. Wehrenberg PhD, hired to construct the interior logic circuit controller for the "WillBall" Table to specifications.