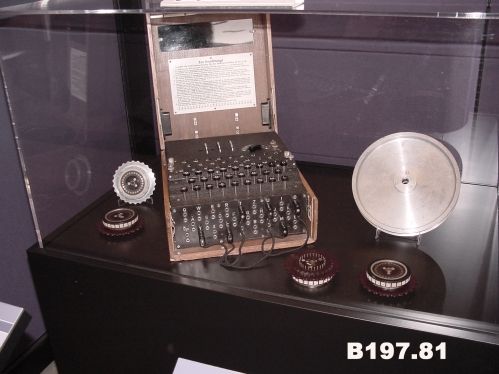 Title
ENIGMA Encryption/Decryption Device
Date
1935 ca.
Manufacturer
Chiffriermaschinen Aktien-Gesellschaft
Place Manufactured
Berlin, Germany
Identifying Numbers
Model number
ENIGMA
Other number
A12761
On label on back of wooden case, near handle
Serial number
16411
Inside casing, beneath rotors
Dimensions
6 x 11 x 15 in.
Description
Text as appears on ENIGMA's top cover: To Observe! Observe the manual for the Encryption machine (H. Dv. g. 13) 1. To clean the roller contacts, turn all rolls several times backwards and forwards. 2. To clean the key contacts, press all keys down strongly before turning on power several times and let them pop back up while one key remains pressed. 3. While selection of the characters which are visible in the window, observe that the rollers are in the right position. 4. The "fool proof" (literal translation: "unconfusable") double pole plugs are to be inserted into the holes all the way. The front wooden panel is to be closed, since otherwise three lamps could be lit at the same time. 5. If no lamps are lit after pressing a key, check battery, contact springs, connectors at the switch and the switch itself. 6. If one or more lamps do not light up with a key pressed, the corresponding lamps, the contacts underneath them, the cables of the double poled plugs, the plug receptacles including their sho."
Category
I/O: other
Subject
World War II; Germany
Credit
Gift of Gordon and Gwen Bell