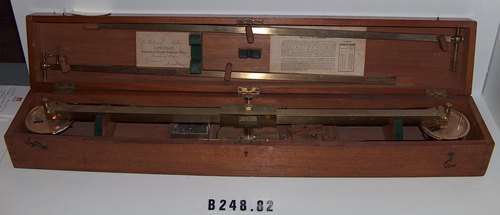 Title
Pantograph drawing instrument - "Eidograph"
Date
ca. 1860
Manufacturer
Patrick Adie
Place Manufactured
London, UK
Dimensions
in box: 5 x 35.5 x 6 in
Description
From the Bell documentation: Purchase includes the instrument, large hand-dovetailed mahogany case, trade label, instruction set and original key." An ornate paper label on the inside of the object's lid reads: "Patrick Adie, Optician, Mathematical & Scientific Instrument Maker, Broadway Works, Westminster, London." Object consists of wooden box and drawing instrument.
Category
Analog computer
Collection Title
Gwen Bell artifact and book collection
Series Title
Pre-computing artifacts
Credit
Courtesy Gwen and Gordon Bell