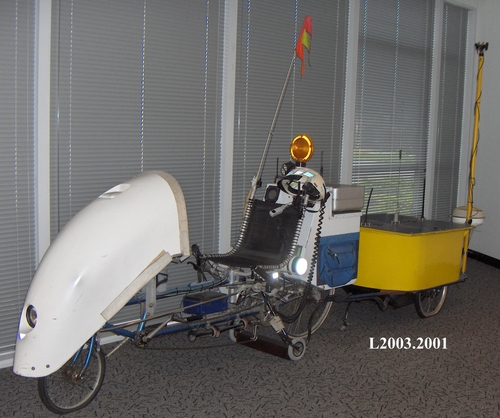 Title
BEHEMOTH (Big Electronic Human Energized Machine Only Too Heavy) recumbent bicycle
Catalog Number
L2003.2001
Date
1983-1991
Manufacturer
Roberts, Steven K.; Nomadic Research Labs
Place Manufactured
U.S.
Identifying Numbers
| | |
| --- | --- |
| Model number | BEHEMOTH |
| Serial number | 1 |
Dimensions
87 x 160 x 36 in.
Description
This networked recumbent bicycle is the third and final version of the "technomadic adventure platform" built by Steven K. Roberts and pedaled 17,000 miles around America. The core idea here was to use computer and communication tools to render physical location irrelevant, and Roberts maintained a freelance writing and publishing business while on the road using the handlebar chord keyboard, satellite email, heads-up display, ultrasonic head mouse, and an on-board network of computers.
Category
Fixed-application digital computer: other