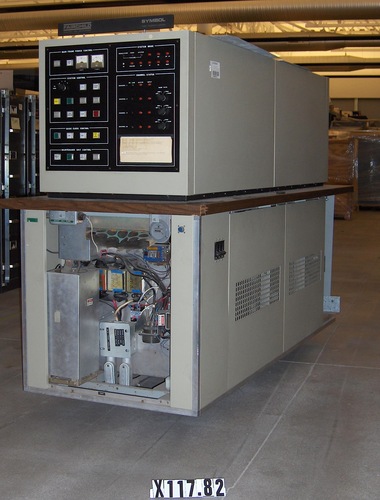 Title
Symbol IIR time sharing system
Description
This object is known as the Fairchild SYMBOL IIR machine. Printed on a green sticker in front is, "PROPERTY OF ENGINEERING RESEARCH INSTITUTE." There are two loose metal panels that may not be part of the object. Engraved on a 3rd loose metal panel, is, "FAIRCHILD CTuL CORE MEMORY." "u" = Greek letter mu.
Date
1972
Manufacturer
Fairchild Camera and Instrument Corporation
Place Manufactured
U.S.
Identifying Numbers
Model number
Symbol II-R mainframe
Other number
017484331-A
Printed on shipping label on right side.
Other number
V1 101 18
Handwritten on label on back.
Dimensions
overall: 53 in x 29 1/4 in x 78 in
Category
Digital Computer
Credit
Gift of Roy Zingg