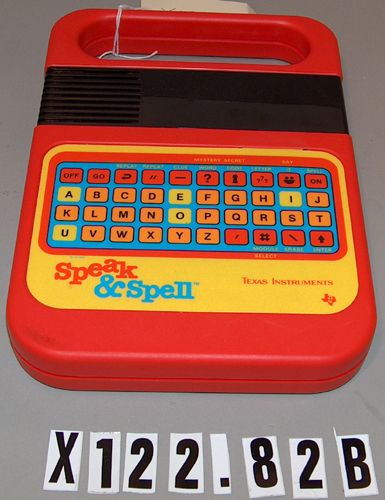 Title
Speak & Spell electronic game
Description
There are a black and a white wires that are coiled in the battery compartment, that do not appear to be original, and that are terminated in unsoldered, twisted-wire connections to short pieces of black and red wire. The black and red wires are only approximately 1/2-inch long stubs.
Date
1978
Manufacturer
Texas Instruments Incorporated (TI)
Place Manufactured
U.S.
Identifying Numbers
Other number
3921142 Patent Pending
Other number
MC written in pencil inside battery compartment
Other number
X122.82b
X122.82b is written in silver ink on the back of the object
Serial number
USA 1590
Dimensions
1 1/8 x 7 x 10 in.
Category
Game
Subject
Speech; Games; Education
Credit
Gift of Gene Frantz