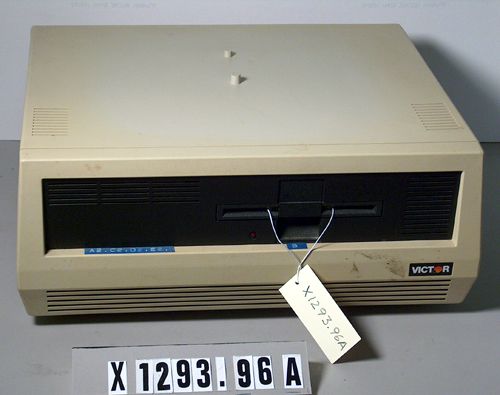 Title
Victor 9000 personal computer CPU unit
Date
1982
Manufacturer
Victor Technologies, Inc.
Place Manufactured
U.S.
Identifying Numbers
Model number
420
Other number
A2, C2, D2, E2.
Printed in white on a blue DYMO-tape label under the vents on the left-hand side of the black part of the front panel
Serial number
M0032212
Dimensions
overall: 7 1/2 in x 16 1/2 in x 14 in
Description
There is a 1/2 x 1 1/2 inch name label near the lower, right-hand corner of the front panel, with the name "Victor" printed in white on black, except for the "O", which is printed as the banded, orange-yellow, Victor "planet & moon" logo. This unit has one 5 1/4 inch floppy drive. "B" is printed in white on a blue DYMO-tape label under the floppy disk drive door. The case has two cylindrical molded studs, approximately 1/4 and 3/8 inches in diameter and approximately 1/4 to 1/2 inch tall, protruding from the middle of the top panel, where shadowing suggests that a monitor was located.. The unit includes a 5 1/4 inch floppy disk, found inserted into the floppy-disk drive (apparently to protect the drive heads). The disk has a green edged adhesive label with the hand-written notation, "spline-9000 contains all guide vanes."
Category
Digital computer: desktop