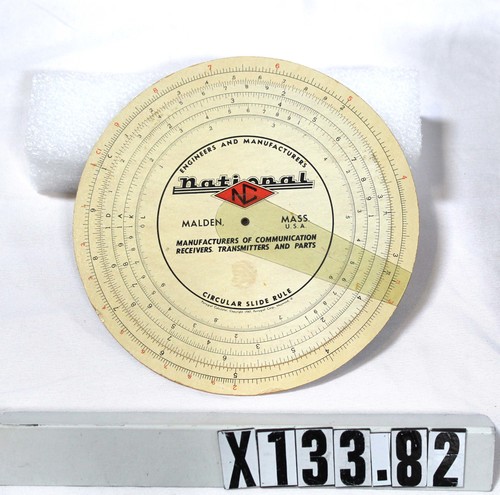 Title
Radio Communication Slide Rule
Description
Radio commincation slide rule consists of circular paper number wheel and plastic guide. Black text stamped on front indicates "manufacturers of communication / receivers, transmitters and parts" with logo of national engineers and manufacturers above. Back of number wheel indicates the times of various countries around the world and center includes black text "the most disctinctive name / in radio communications". There is a circular residue mark on the lower center part of middle of the top of the wheel.
Date
1947
Manufacturer
Engineers and Manufacturers National
Place Manufactured
U.S.
Dimensions
1/8 x 6 1/8 x 6 1/8 in.
Category
Pre-computer/slide rule
Credit
Gift of Stanton Vanderbilt