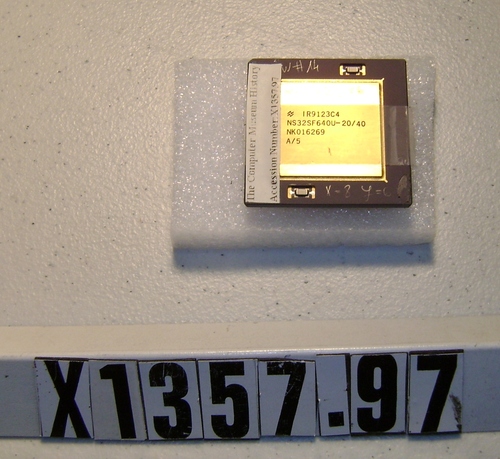 Title
NS32SF640 "Swordfish" RISC Embedded Processor
Date
1991
Manufacturer
National Semiconductor
Place Manufactured
U.S.
Identifying Numbers
| | |
| --- | --- |
| Model number | NS32SF640U-20/40 |
| Other number | IR9123C4 |
| Serial number | NK016269 A/5 |
Dimensions
overall: 3/8 in x 1 7/8 in x 1 7/8 in
Description
The NS32SF640 "Swordfish" architecture is based on a highly-parallel, super-scalar and pipelined design. It is a 64-bit CPU without FPU (Floating Point Unit); the NS32SF641 has integral FPU. The device contains more than one million transistors and has an internal clock frequency of 50MHz, resulting in a 100 MIPS / 50 MFLOPS performance rating. The Swordfish has internal timer, interrupt control, and DMA circuitry which enabled it to be used in process control as well multiprocessing applications. Lid is removable. Scratched/written on the surface is "W#14 X=8 Y=6". In red ink is written "W14, X8, Y6".
Category
Component: IC