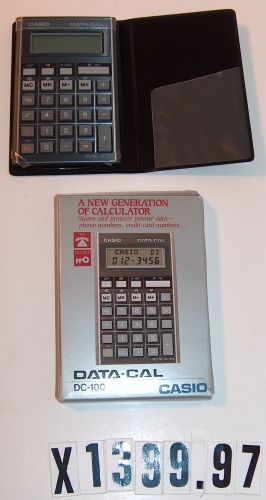 Title
Data-Cal calculator
Catalog Number
X1399.97A-B
Description
This item comprises two pieces: A: calculator B: slip case Four function (plus square root, percent, and memory) calculator with telephone directory / personal data bank built-in. Box text: " A new generation of calculator. Stores and protects private data--phone numbers, credit card numbers..." Includes slip case, original box. Requires Lithium 'button' style dry cell, CR2016L or equiv. (3V).
Date
ca. 1986
Manufacturer
Casio Computer Company, Ltd.
Place Manufactured
Japan
Dimensions
1/4 x 2 5/8 x 4 3/8 in.
Category
Calculator/electronic
Credit
Gift of Casio Computer