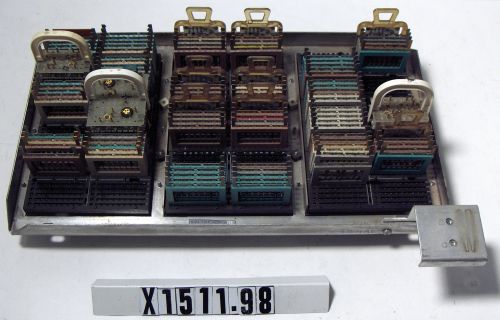 Date
ca. 1964
Manufacturer
Burroughs Corporation
Place Manufactured
U.S.
Identifying Numbers
Model number
B5500
Other number
11226537 B
Stamped in the metal frame
Other number
19105790
Priinted on sticker on metal frame
Serial number
114385
Dimensions
overall: 4 3/4 in x 15 1/2 in x 10 3/4 in
Description
The Burroughs B5500 was an innovative, third-generation architecture, employing parallelism and multiple I/O processors, allowing many operations to occur simultaneously. For the first time in a commercial machine, it introduced several key concepts in computer architecture, such as virtual memory, stack-based addressing, and multiprogramming. It ran such programming languages as Algol and COBOL and was popular in financial institutions such as banks. Assembly included a backplane containing pluggable transistor-based modules. Sticker with text: "DIAL TWX ADPT MII."
Category
Component: circuit board / module